Travel art supplies are my adult Wubby. If I'm going to leave the house for an outing or a night away, I always throw them in the car.  They are essential gear, packed year-round, and always at the ready. Here's my compact system that works great for mixed media art on the go.
Travel Art Supplies Video
[ultimate_video u_video_url="https://www.youtube.com/watch?v=RaOEkcaM1r4″ yt_autoplay="" yt_sugg_video="" yt_mute_control="" yt_modest_branding="" yt_privacy_mode="" play_size="75″ enable_sub_bar=""]
I originally bought this stool to use as my travel art supply bag in 2017 and I would buy it all over again today. Features that make it awesome include: it's durable, waterproof, roomy, allows for hands-free carrying, and you always have somewhere to sit. Through the years, I've also found it's convenient to leave open as you work so all of your supplies are accessible and contained.
As an added bonus, it's easy to quickly pick up and carry off at a moment's notice … like the time homeless men began to fight next to me and my sister as we sketched on a Chicago street.
My all time favorite sketchbook is a Pentalic Aqua Journal sized 5×8 inches. It contains 48 pages of 140 lb (300 gsm) acid-free, European-made watercolor paper. The paper is the perfect weight and texture to hold up to multi-layered mixed media work. Six signatures are sewn into the beautiful landscape-format hardcover journal so the pages lie flat when the book is open. An elastic brush holder is attached to the top of the book, perfect for holding a travel brush.
Pencil pouches keep supplies organized inside the cooler bag. Most of my pouches are Blue Q brand. Woven from 95% recycled polypropylene, they are easy-to-wipe-clean and have some awesome designs. Check out all their designs and sizes on Amazon.
TIP: Make a paper tag labeling the contents of each bag and tie them on the zipper pulls. It helps when you can't remember which bag holds which art supplies.
Water is necessary for the creative process and sometimes when you're creating on location, it isn't available. If I know that will be the case, I put a small water bottle into my pack. Obviously, water is heavy, so I take a 10 ounce leakproof bottle and don't completely fill it.
When it comes to creating with a lot of water soluble media, a tiny spray bottle comes in very handy. Having the bottle tucked into the outside pocket makes it easy to access. Also in the outside pocket, I keep a folding water cup called an aqua tote. I recommend it as it folds flat and has outer pockets you can tuck art utensils in as you create instead of letting them roll to the floor. If you can't find it, though, Faber Castell's collapsible cup is a great second best.
Pencils, Chalk, & Rulers Pouch
Items that don't fit in the pencil roll go into this pouch. First, it has a view finder that I received in an urban sketching class. The window measures 4.5 by 3 inches. Holding it up helps with composition when sketching plein air. It also serves as a template to create lots of thumbnail composition sketches before starting the final piece.
A tin with a basic Cretacolor sketching pencil set
also lives in the bag. Honestly, I've never used them. They were free at a Usk convention, and this became their home.
I have both Kuretake and Pentel Aquash aqua brushes. The only difference between the two is how you load them with water. I prefer the Pentel Aquabrush which comes apart so you can drip water into it. The Kuretake pens suck water into the barrel. Two of the Pentel aqua brushes always remain loaded with an inky water mixture for shading. The other three I keep handy for general needs.
Paint & Markers
Because the travel supply kit is typically for plein air art, I often paint landscapes which incorporate shades, tints, and tones of green. For this reason, I include a few small tubes of acrylic paint, including: two tubes of green, a tube of brown, and tubes of white and black paint.
For markers, I include a full set of small Posca markers. Full of acrylic paint, they are permanent, opaque, and work great over most media including watercolors. Then, I include a yellow, red, and blue Tombow marker. Tombow markers are water soluble. Having the primary colors suits all needs since they can be blended with a wet brush to create other colors.
Crayons & Colored Pencils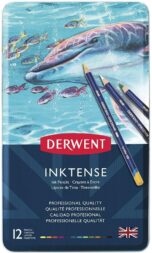 Topping off all the other travel art supplies, I carry 3 tin sets. I carry a basic set of  Neocolor II water soluble wax pastels. Essentially, they are watercolor crayons. I also carry a set of 12 Derwent Inktense watercolor pencils.
Lastly, I carry a set of Tri-Tone colored pencils with multi-colored leads (pictured to the left). The Tri-Tone set is not water soluble, so they work great for fine details and the multi-colored tips add real depth to the artwork.
There you have it. Those are the travel art supplies I carry with me whenever I have an outing. I feel like some people might be concerned with the weight of the pack, so I weighed it and it is exactly 10 pounds. I've carried it long distances before with no problem. Also, I have taken this through TSA checkpoints countless times with zero issues.
Let me know if you  have any additional questions or provide other brilliant travel art supply ideas in the comments!