Note: I am an iPhone user. The links to the apps are for the Apple app store. I'm unsure if all of these apps are available for Android users. Let me know in the comments if any aren't so I can note that for other readers. Thanks!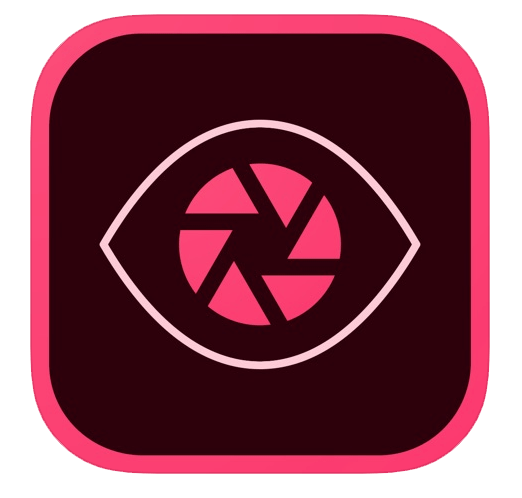 Adobe Color
Adobe Color (previously named Adobe Kuler) is now a part of Adobe Capture. It's hard to keep up with Adobe sometimes! I've just downloaded the Capture App, so I haven't used the other features yet, but it looks feature rich. Nonetheless, I can speak to the color functionality in the app. It works the same as when it was a stand alone.
Adobe Color is a really fun (and free) color theme app, that allows you to create color palettes. The app is gorgeously designed and easy to use. Upon opening it, you have the option to create a color theme from the camera, your camera roll, or the creative cloud. So, if you happen to visit a lovely garden, eat a beautiful meal, or see an amazing sunset, you can open this app and it will sample and save 5 coordinating colors for you.
As illustrated below, I sampled colors from one of my purses, a bouquet of flowers, and an illustration from my wall calendar. The dots indicate where the color sample came from and the swatch at the top shows the complete color palette.
Notice the photo of the calendar all the way to the right has a different color palette than the one to the left of it. In the camera, live mode, as you move the camera around, it samples and captures different colors. You get to choose which colors you prefer. You can also manually grab and move any of the dots on the image to force it to sample a color.
If I want to paint any of these items, this app takes the guess work out of which colors I need. I might have to mix to get the proper shades, but I have a starting point. Additionally, if a palette makes my heart sing, I might use it to inspire my next piece.
Bonus: If you use the Adobe Creative Cloud, the color palettes can be shared and synced to your Adobe apps including Illustrator, Photoshop and InDesign. You can then use the color swatch tool to directly use the captured colors in your graphic designs.
---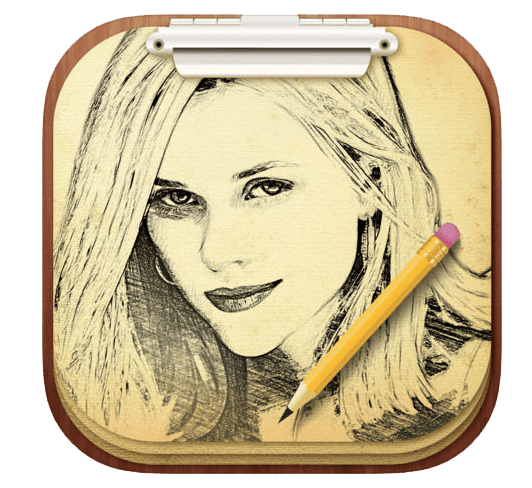 Photo Sketch
Photo Sketch is one of a billion photo filter apps on the market. This is great for artists, though, as it takes your photos and applies artistic filters to them. Personally, I use Photo Sketch to help me identify the values of reference photos sometimes.
It's straight forward to use. You open the app, click on the camera icon in the upper right and choose a photo. You then use the arrows to toggle between the 22 artsy filters. I find filter #12 helpful for finding the darkest values and filter #13 helps to see the dark, midtone, and highlights while eliminating unnecessary details. Filter 12 could also be used to make a stencil from a photo.
Here's an example of a portrait of my daughter showing the original and the 2 value filters I like:
---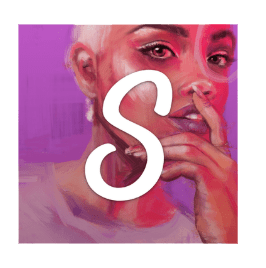 Sktchy
Sktchy is not a drawing app. It's an ever-updating source of inspiring photos for you to draw, and it's a place for you to share your artwork. You can find reference photos, upload your own photos to be used as reference, peruse other artists' portraits, and upload your own work into the community.
I love Sktchy for the reference photos most of all. When you find photos you want to bookmark to possibly use as reference later, you add them to the Queue. To add a photo to your queue, tap the "Add to Queue" button under the photo. You can also upload your own selfies or photos so other artists can draw you. If someone draws you in a way you don't like, you can untag any artwork in the "Inspired" section of your Profile. Just hold a finger down on the image and then choose "Untag".
The Sktchy community welcomes and includes artists of all skill levels. Artists are encouraged to share their work which is another source of inspiration from the app. To share your work, first, find a photo that you want to draw. Next, draw the photo. Finally, upload your drawing via the "Upload Art" button under the photo.  When looking at all the portraits artists have created, swipe right on the artwork in the app to view its inspiration. 
---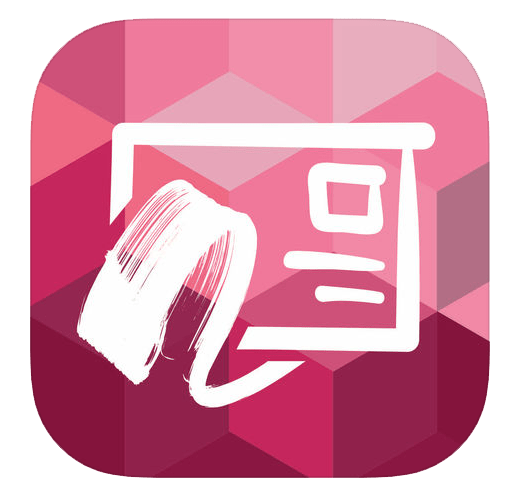 ArtCard
ArtCard combines styles of famous artists with traditional image filtering techniques, e.g. with oil painting, watercolor or cartoon effects. Your photos will convert instantly into stylized art which you can then use as inspiration to create similar art or you can just save and share it because it looks cool.
It's pretty easy to use. After you open the app:
Select a photo from your library
Crop your photo into the right format to prepare it for sharing
Choose a photo effect to create art
Change the intensity of the photo effect and/or enable/disable the color transfer
Save your painting in high-resolution
There are a few nice things about the app. All of the filters are free to use. There aren't any premium filters that you need to pay to unlock. It's also cool that many of the filters are based on styles of famous artists such as:  Van Gogh, Picasso, Marc, Monet, Munch, Dubois-Pillet, Moras, or Goetz. Also, unlike other apps, you can change the intensity of the filters to get a more controlled output.
The only downside I find is the big logo/watermark that is added to your photo when you save it out, but a screenshot capture can avoid that.  
In the gallery below, I show you the original image of my younger 2 children walking on the beach, the oil painting filter, and the bold filter. I like how the filtered versions give me a nice idea of what details to omit if I try to paint or draw this image. 
---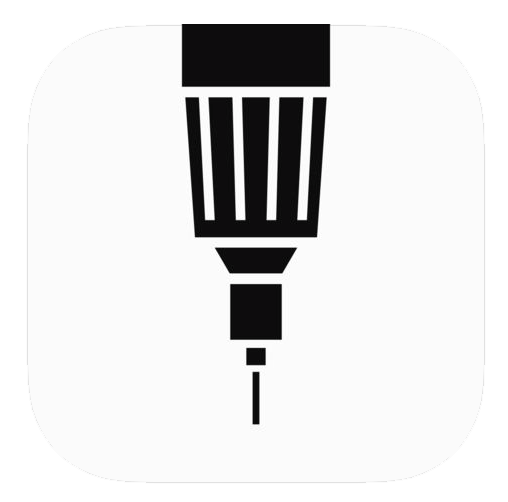 Sketches
Sketches is a drawing app with realistic drawing tools designed specifially for use on a mobile device. It's great for creating illustrations on the go when you don't want to lug around your travel art supplies.
Features include:
The ability to import photos
Over 20 drawing tools
Watercolor wet brushes
Brush Editor
Color Eyedropper
One of the greatest parts of this sketch app is the ability to create layers. If for example you draw an owl and you later decide to add a moon behind it, you can create a separate layer and arrange the elements. This is also super helpful when you go to edit your sketches. Perhaps your moon doesn't look right, you can erase or make changes without accidentally erasing parts of the owl.
Having a sketchpad with you at all times is a great habit for artists. When you don't have pencil and paper, this app can is a great alternative.
---
There are a million apps out there. Which ones do you use or recommend?