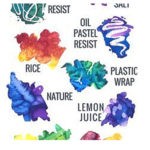 The Kitchen Table Classroom posted this awesome tutorial showing 9 different techniques you can get with watercolors (I love the colors in this set). I've tried the saran wrap and salt — they both work great!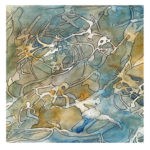 Blogger Elise Engh generously shares a tutorial on using rubber cement as a means of resisting watercolor to create lovely abstract painted papers. These would make gorgeous collage papers and they look fun to make!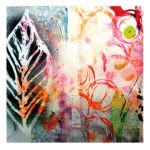 Artists Network posted an excerpt from Traci Bautista's book, Printmaking Unleashed. It shows you how to create your own stencils by using a hot glue gun. These stencils, can in turn, make fantastic unique papers.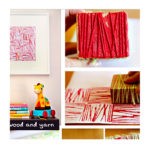 Mr. Kate shows three easy to replicate techniques for DIY printmaking. I particularly like the prints she made with the yarn around a wooden block.
Vera Moraes also wrote an inspiring blogpost. She uses common household items like this small wire basket to print on fabrics, but they would make beautiful papers, as well. She totally got me thinking. I'm looking at this potato masher in a completely new way!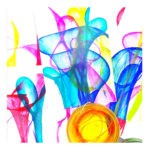 Have you seen this gorgeous technique? I'm dying to try it out. Rachelle at Tinker Lab layered the technique on her paper. Isn't it so yummy? I wonder if acrylic inks (those are the kinds I use) would be as successful as liquid watercolor so the paper would not be water reactive when used for collage. Let's test this theory soon!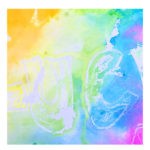 Recently, I pulled out my bleeding tissue paper and made a background. It was cooler and easier than I thought. I like Randi's blog post about the technique as she shows  an  oil pastel resist technique. Using a resist means you can add multiple patterns and colors to the paper. Multi-layered papers often add depth and pattern to your ultimate collage project.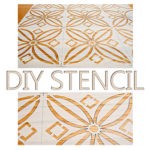 Denise from Salvaged Inspirations shows a pretty good technique for cutting your own stencils out of mylar so you can customize your paper designs to the nth degree. You can freehand a design and cut it right out yourself then use your unique papers to your heart's content.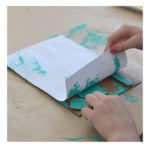 Barbara Rucci recently posted a cute tutorial for kids to create their own collagraphy, a basic a method of printmaking where collage material is glued onto a board to create a relief surface. It might look like kids play on her blog, but this is a fun, free way to create stamps which you can then use to create your own unique painted papers.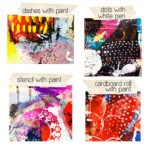 Alisa Burke, one of my favorite artist bloggers, shows six super cool ways to add patterns to your papers using items you probably already have at home. Her techniques and examples include using: kitchen utensils, stamps, circular items, stencils, doodles and drawings, and simple mark making. Papers created with her patterns will be gorgeous collage fodder.
I can't wait to try out the rubber cement and the pull string. What about you? Are you inspired to try any of them?