Participating in art challenges benefits artists immensely. Try one of these 15+ creative challenges and use these 7 tips to succeed in your efforts.
Why You Should Do Art Challenges
Definition
The concept is simple: you commit to doing something consistently within a set time period while sharing your work on Instagram, Facebook, or Twitter with predetermined hashtags. You can start this type of project at any time. Preparation is not a requirement. In fact, no matter what day you're reading this,  you can start right now if you want.
Benefits
These projects are a celebration of process that encourage everyone to participate in  making. They are beautiful in their simplicity and flexibility, allowing creators of all disciplines to participate. Often participants produce incredible results, sometimes life-changing. Additionally, participants of art challenges consistently report heightened inspiration, creativity, and productivity. As a bonus, art challenges come with a ready-made audience and community. You might discover your new favorite artist and you might gain a new following of devoted fans for yourself.  Regardless, the community participating alongside you is a great support tool.
Set Yourself Up for Success
Whether preparing for upcoming art challenges, jumping in to one in progress, or simply trying to establish a regular practice, these tips can help you.
Set Parameters
The most successful projects, in my opinion, have these parameters in common. The makers:
Make it small.
Make it fast. 10-15 minutes a day is a reasonable commitment. A 2 hour daily commitment is not.
Determine what will make your project cohesive. Upon its conclusion, when you set your full body of work down in a grid, what will make it a collection? What will they have in common with one another?
Brainstorm Ideas
Some art challenges come with prompts, but they all have a latitude of creativity. When determining how you will accomplish the task(s), make it simple and make it something you feel passionate about. You are committing to doing this for a period of time. It's unlikely that you will complete the challenge if you feel "meh" about it. To borrow from Marie Kondo, what will spark your joy? That's what you want for your project!
To be clear, you don't have to be a visual artist to participate in these challenges.  We are, after all, a community of creatives. So get creative already! Elle Luna, founder of #the100DayProject, distributed this graphic with some project ideas to get juices flowing: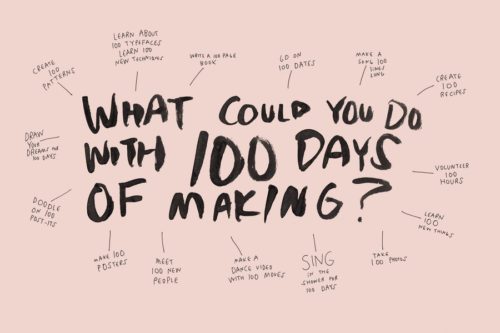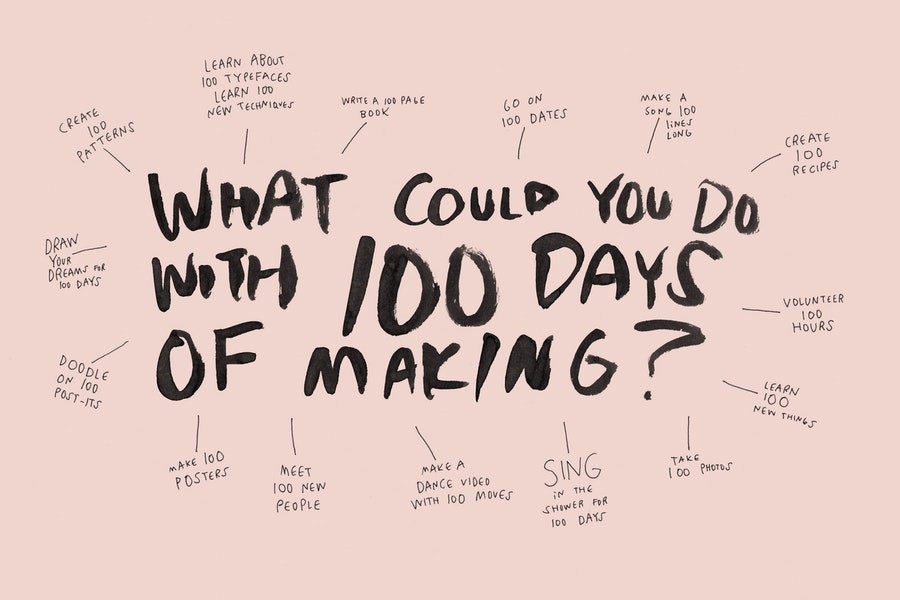 Gather Materials
Once you determine your project, make sure you have the materials you need. First, what substrate will you use? If you choose paper, make sure it will support the media you plan to use. Typing paper wouldn't work for watercolor, for example. I really like hot press watercolor paper because it holds up to the mixed media I throw atop it. Maybe you're working on 6×6 canvases though? Or in a sketchbook? Whatever you choose, get it ready!
Also, consider if you will be traveling or home. Are your materials mobile? Do they need to be? Set up an art caddy that you can take on the go.  I'm very aware that as a mom of a busy family, I can not be sure that I will be able to spend time in my art studio, but if my supplies are portable, I can still get it done. I keep a small cooler stool full of my favorite plein air art supplies so I can grab it and go at any moment (Read about my travel art supplies here).
Set a Goal
What do you want to accomplish at the end of this project? You are more likely to succeed if you start with that in mind. You might have a more process oriented goal, and that's awesome. Or do you want a product oriented goal? What do you hope to accomplish? Do you want to write a book? Establish a daily art practice? Add to your portfolio or sell your work?
Bear Down
When you start, you're excited and energized. You post and produce like crazy. Trust me that it will wear off. You might get bored doing the same repetitive process — that's when you need to push through. That's when your creativity must fill in the gaps and you might have a wonderfully unexpected turn or outcome. You might start to get overwhelmed because — well — life happens. Don't give up on yourself. Keep your eye on your goal and know that you will feel satisfied and accomplished if you see it through. For more tips on pushing through, check out my post on Facing a Creative Block.
Go Easy On Yourself
Again, life happens. Lots of people don't finish their projects within the intended time frame. If you skip a day, get back in the game the next day. When you post along the way, number your post 001/100, 002/31, etc… so you can pick up where you left off. Be kind. You didn't post today? Gasp! What will they say? Um. Nothing. So, as I tell my son often, be as kind to yourself as you are to other people.
Enjoy the Community
Lastly, enjoy the community. There are a lot of supportive people doing this project alongside you. Follow the hashtag and bask in the fun and beauty. Post some supportive comments and hand out the likes. Other people will do the same for you and it'll be fun!
Art Challenges to Try Out
Monthly Art Challenges
Perennial Art Challenges
Let's Do This
Can you think of any challenges I should add to my list? Are you in? Which challenge are you ready to take on? I'd love to follow you!