Branding & Blogging
I live an artful life, design for a living, and practice art for a hobby. I also enjoy writing and teaching. Naturally, the Blogosphere calls my name.
My sister-in-law once told me, "You out-Etsy Etsy." That might be the highest compliment I've ever received. It led me to the realization that what comes easily to me does not necessarily come easily to others. I intend to add my experiences and teachings here at Artful Pursuits to help everyone feel like they can out-Etsy Etsy, too.
Rebranding Advice
As I said, I help others rebrand. Branding is a phased process. It includes: conducting research, clarifying strategy, designing identity, creating touchpoints, and managing assets.
Research and Discovery
In applying these concepts to my personal brand, I answered these questions:
What is my niche?
Who is my audience?
What value can I provide my audience?
Is there an easy-to-remember domain name available and niche related?
What social media platforms to I want to use?
Is the domain name available on the social media platforms I use?
What should my logo look like?
Where will I host my domain? What CMS do I want to use? How will I set it up?
Logo 
Designing identity is the funnest part of rebranding. I enjoyed coming up with logo ideas. Knowing my niche is art, crafts, and DIY projects, I went about designing an artful logo. I came up with 5 logo contenders and put them up for a vote in a blogging Facebook group I participate in.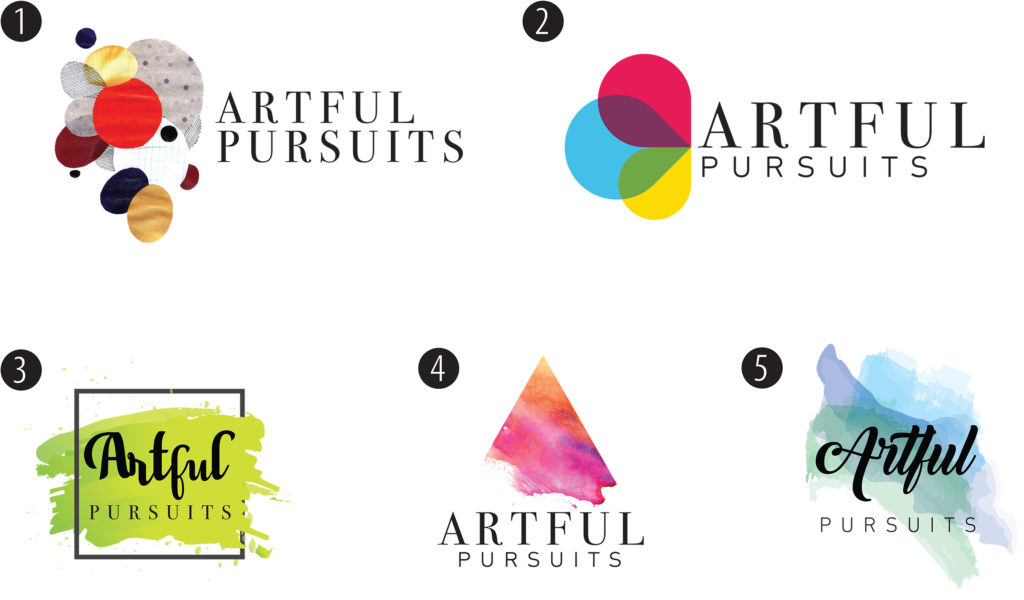 The group unanimously voted for option #5. lol. I invoked my mother's advice, "Listen to people's advice and then do whatever the hell you want." After trying the different logos out on my website, I decided I love how #2 looks. The others looked small and illegible.
Name Change
For those of you familiar with my previous brand, LifePinspired, I'd like to explain the change. As a designer, my previous blog did not spark joy for me. I also recognized some other issues.
Art Evolution
The name of my previous blog no longer fits who I am. Life Pinspired was born in 2015. I attended a wonderful art retreat, Artfest, and prepared business cards to exchange with other attendees. I wanted to list a blog on my cards, so I hurried up and created one. At the time, I was spending hours on Pinterest. My Pinterest pins inspired most of my work. I lived a Life Pinspired and reasoned it would be a great blog niche.
Fast forward to 2019. Now I don't use Pinterest as my main source of inspiration. My art and skills evolved over time. I still love Pinterest and log inspiration on it frequently, but fewer and fewer pieces of my art stem from Pins now.
Pinterest Barrier 
Secondly, after I initially started my blog, I discovered the name was misleading to customers. I learned:
Not everyone has // likes Pinterest and
People seem to have a hard time remembering LifePinspired
Shockingly, some people don't do Pinterest. I accidentally alienated that group with my previous blog name. Even the people that do Pinterest, though, asked me repeatedly, "What's the name of your blog again?" Branding 101: if people can't remember it, change it. I wanted to communicate what I do more clearly. I think adding the word art to my brand helps people understand what they will find here.
Question
Happily, I can report that Artful Pursuits sparks joy for me 🙂 What do you think of the new brand and the new site?