An Overview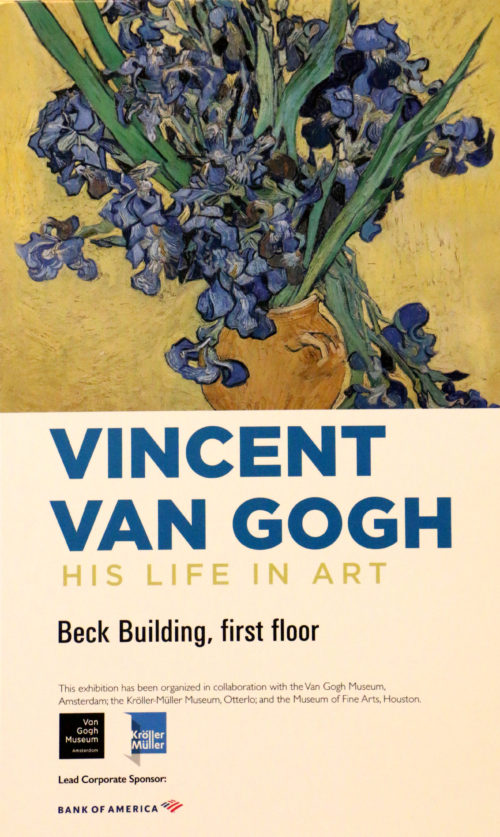 As stated on the MFAH website, "The MFAH is the only venue for this major survey that brings together more than 50 masterworks by one of the most iconic artists in the history of Western art. Vincent van Gogh: His Life in Art follows Van Gogh (1853–1890) through four key stages of his career, from early sketches to final paintings.
Few artists left behind as complete a diary of life and work as Van Gogh, whose decade-long career as an artist began when he took up painting in 1881. Vincent van Gogh: His Life in Art highlights the artist's early years in the Netherlands; his luminous period in Paris; his search for light and color in the South of France; and his exploration of nature as a source of enduring inspiration in Saint-Rémy and Auvers.
The exhibition showcases portraits, landscapes, and still lifes drawn primarily from the collections of the Van Gogh Museum in Amsterdam and the Kröller-Müller Museum in Otterlo, the Netherlands."
Inspiration
Van Gogh's life and work have long inspired me. I adore the texture he created with his paint brush. The vibrant colors he used are pure eye candy and his subject matter jives with my interests. I've seen some of his most famous works in New York and Chicago, but never have I had the opportunity to see 50 of his works simultaneously. I was stupidly giddy getting ready to leave the house that morning.
Impressions of the Exhibit
The exhibit began in a large room with some reproductions of Van Gogh's most famous works and a sweeping overview of his life. As you stood at each phase of life/art there were audio domes suspended from the ceiling subtly adding sounds that complimented the art. The display worked really well as an introduction.
Fantastic large murals featured on walls in most of the additional rooms.  A free audio device was offered to all of the attendees. It triggered audio sensors mounted by some of the artworks that gave backstory, technique notes, or a reading of Van Gogh's letters. I appreciated the audio supplement, but it did get very interpretive on some pieces and I may have rolled my eyes at some of the suppositions the narrators made.
In general, the exhibit was awesome, but I did not like the "facsimiles" scattered throughout the exhibit. It made me question the validity of each piece. For example, there were many glass boxes of sketch books, but none of them were authentic. I don't think they added to the overall story in the same way the introduction room did.
His Life
Surprisingly, Van Gogh's career as an artist only spanned 10 years. He tried many different careers before finding his true passion around 1880. Art didn't come easy to him. I found that comforting. He wasn't born a natural — he really worked at it, threw himself into it. He looked for mentors and he drew and painted lots of repetitions. He'd do the same piece over and over again.
"And I say, let's paint a lot and be productive, and be ourselves with faults and qualities…"
— Vincent Van Gogh in a letter to his brother, Theo
Portraits
Van Gogh's portraits were full of life and character. As a budding artist, I truly appreciated seeing his earlier works and hearing about how he improved his skills.  Many of his initial portraits were done in pencil such as Head of a Fisherman with a Fringe of a Beard and a Sou'wester.
Some of his other portraits were practice for later, more complex compositions. For example, he lived with a family of potato farmers. Vincent spent months practicing painting portrait preparatory studies before painting his larger piece,The Potato Eaters.  Portrait of a Woman (below) is one of those studies.
Later, he'd go on to paint the postman (not pictured), a woman at a Parisian cafe, and a dapper man. He also did countless repetitions of self portraits. I can easily conjure an image of his famous self portrait, so I felt like seeing this version with white space in the background was like getting a glimpse into his process.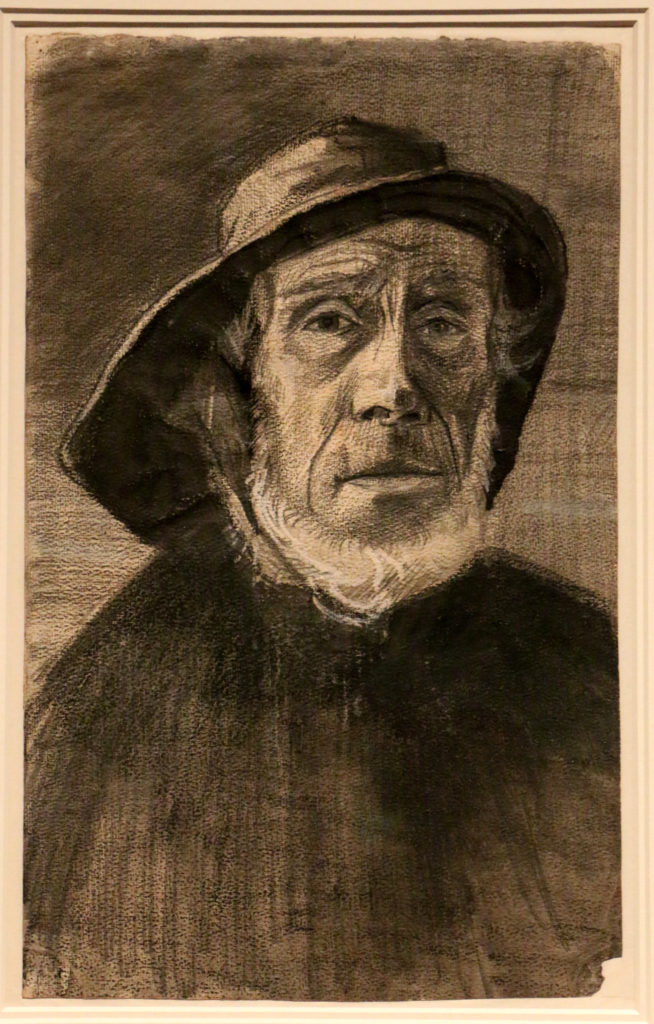 Head of a Fisherman with a Fringe of Beard and a Sou'wester, January 1883, pencil, lithographic crayon, brush and pen and ink, watercolour, on paper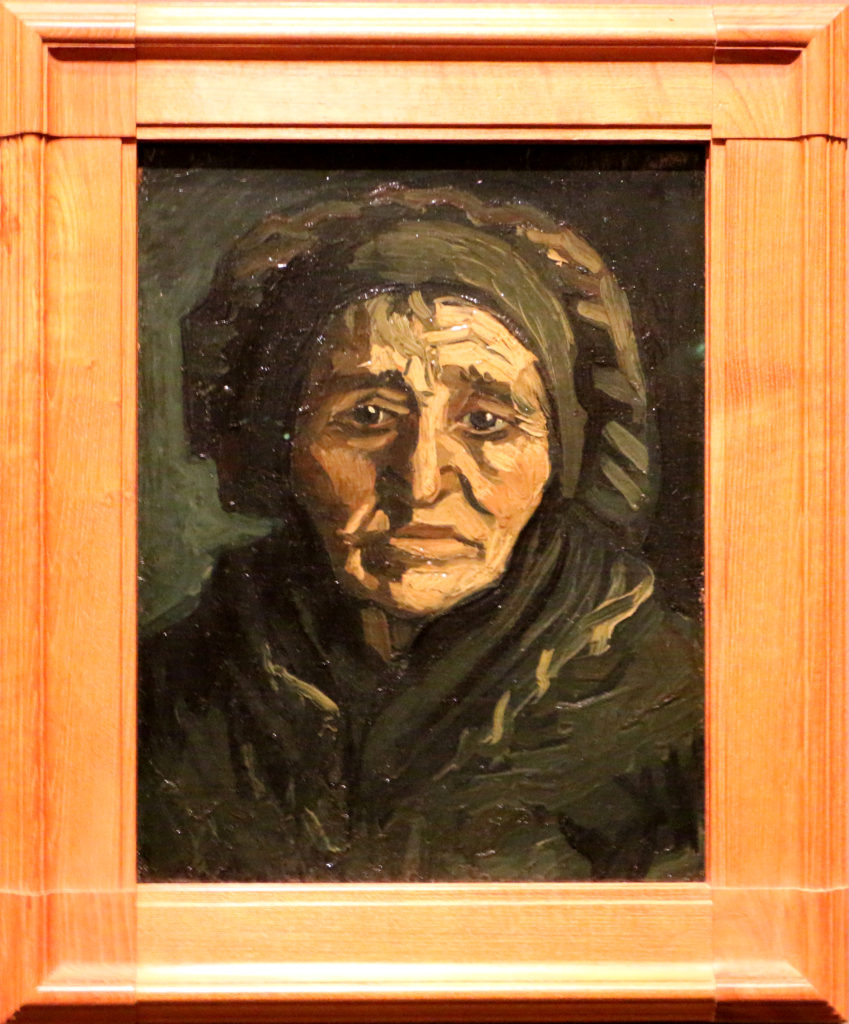 Portrait of a Woman, March-May 1885, oil on canvas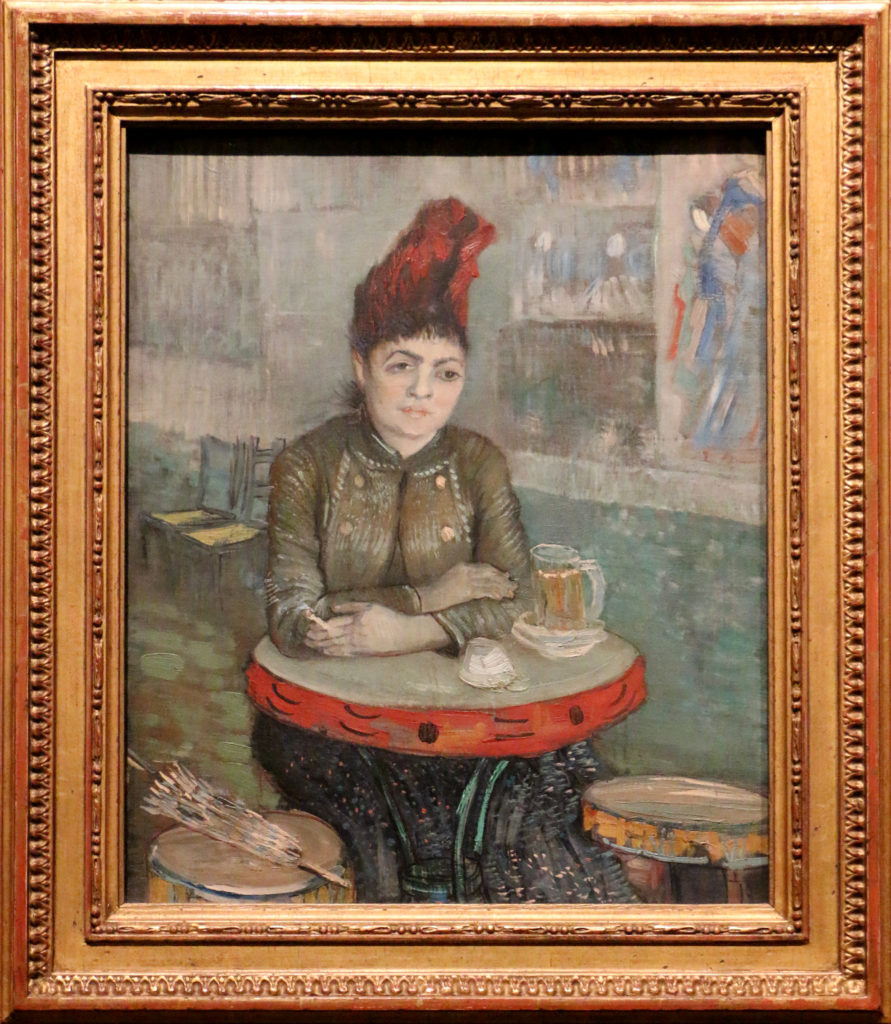 In the Café: Agostina Segatori in Le Tambourin, January–March 1887, oil on canvas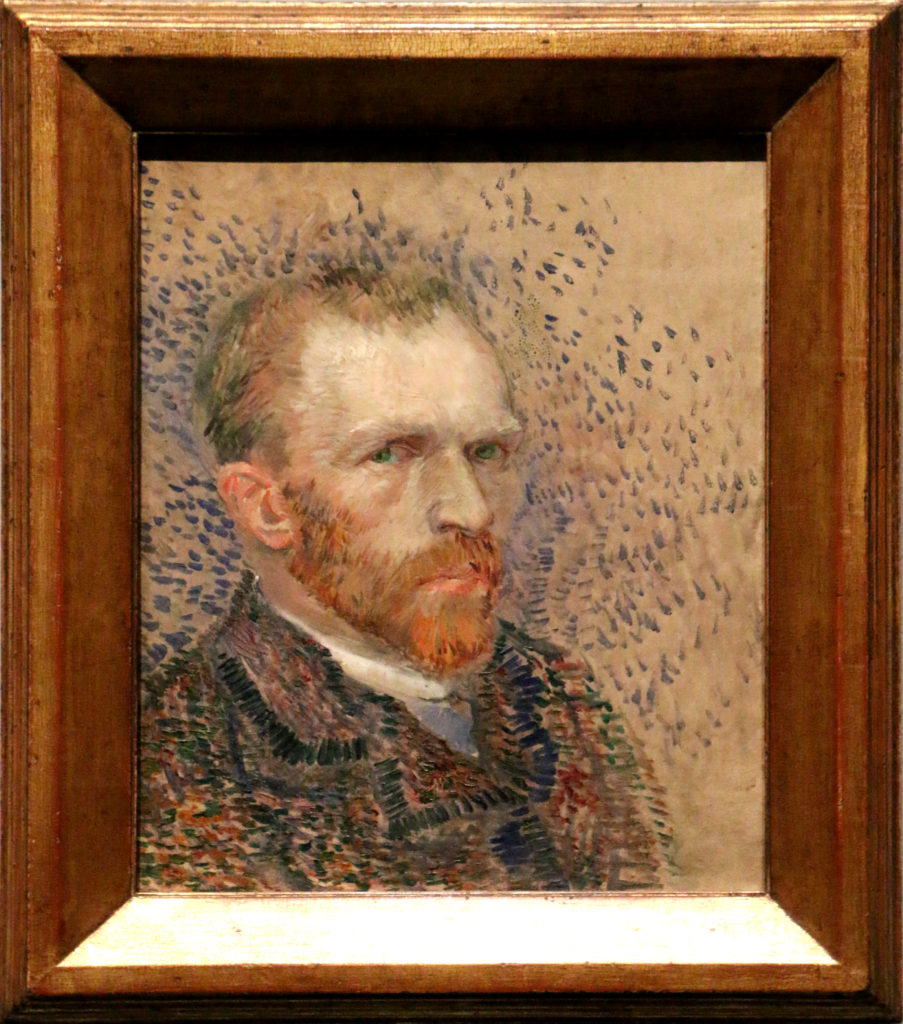 Self-Portrait, 1887, oil on cardboard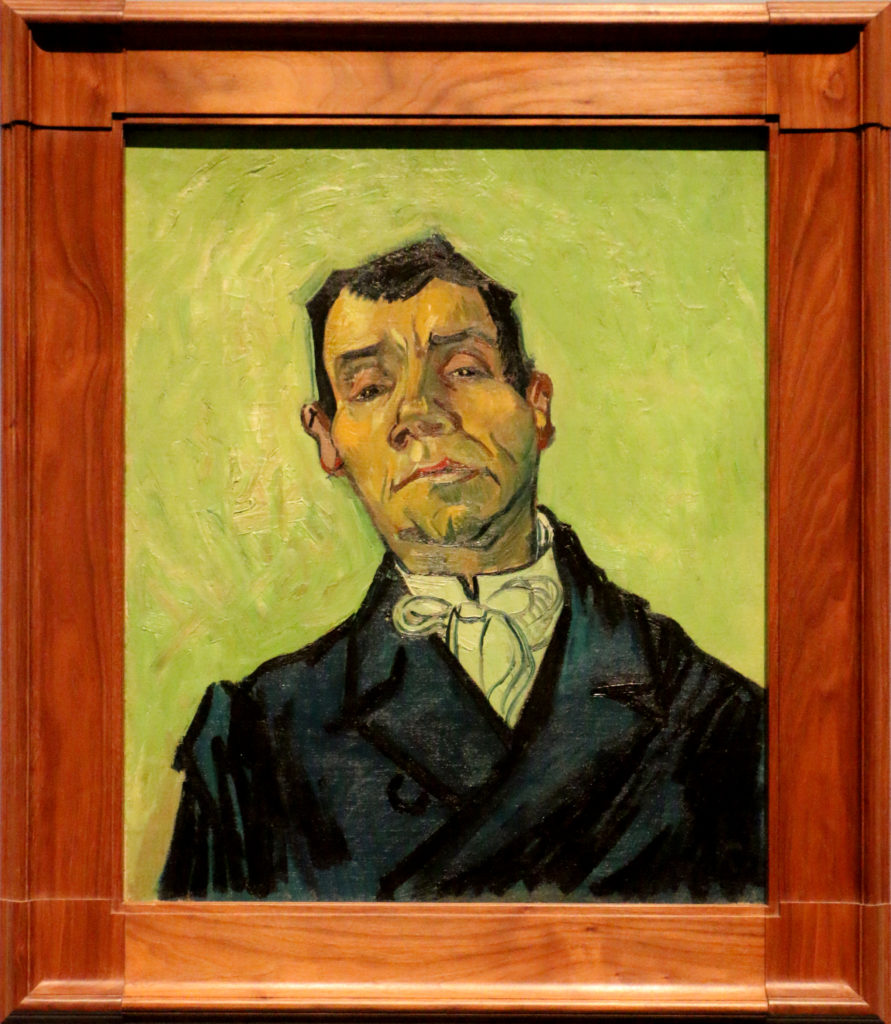 Portrait of a Man, end of October–mid-December 1888, oil on canvas
Natural Landscapes
Vincents's natural landscapes most embodied his ability to show texture and movement. They also show a clear map of his life.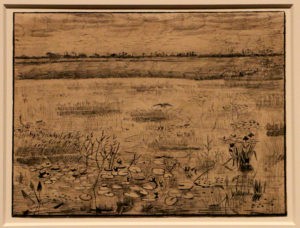 After many failed career attempts, Van Gogh moved to Brussels in October 1880, where he began to work on his drawing technique and came into contact with other artists. In the spring of 1881, Vincent moved back in with his parents, who were now living in Etten. Vincent walked out of his parents' house on Christmas Day 1881 and found a new home in The Hague where he took painting lessons from celebrated artist Anton Mauve.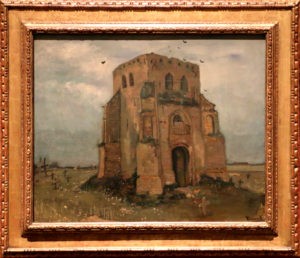 Following his split with his lover, Sien, Vincent travelled to the countryside in Drenthe to draw and paint the heathland and moors. In 1883, he returned to his parent's home, now in Nuenen. Here he studied peasants and peasant life. In 1885, he decided to enroll at the academy of art in Antwerp and left the Netherlands, never to return.
"I actually find all the drawings I see there hopelessly bad — and fundamentally wrong. And I know that mine are totally different — time will just have to tell who's right."
— Vincent Van Gogh in a letter to his brother, Theo, January 1886
Landscapes (continued)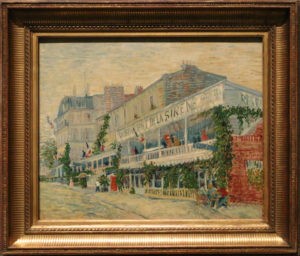 In February 1886, Vincent left art school and moved to Paris to live with his beloved brother, Theo. Vincent's work grew steadily brighter in Paris, under the influence of modern art. He used brighter colours and developed his own style of painting, with short brush strokes.
The subject of his paintings also changed in Paris. Instead of everyday men, ruralists, and laborers, he began to paint cafes and city scenes. After 2 years in Paris, he tired of the frenzied city life and decided to move to Arles in the South of France.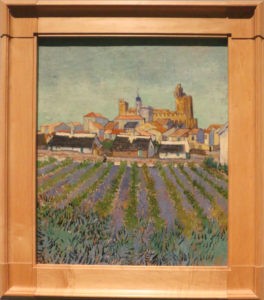 In Arles, Gaugin moved into a bright yellow house with Vincent and they began to collaborate on some extraordinary paintings; however, it was short-lived. Later that year, after an argument, Vincent cut off his ear and was hospitalized. There he was labeled as a madman. He was released in early 1889. Vincent then voluntarily admitted himself to Saint-Paul-de-Mausole psychiatric hospital in Saint-Rémy in May. He was very productive during his time there, creating over 150 paintings.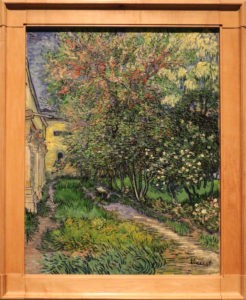 Vincent left the mental hospital in Saint-Rémy in May 1890 and headed north to Auvers-sur-Oise, where several artists were already residing. Although his mental health seemed to improve for a while, he became anxious upon hearing his brother Theo intended to quit his job and start his own business. As Theo always financially supported him, Vincent felt himself a great burden to his brother's plans.
On 27 July 1890, Vincent walked into a wheat field and shot himself in the chest with a pistol. The wounded artist staggered back to his room at the Auberge Ravoux. Theo rushed from Paris to Auvers and was present when his brother died of his injuries on 29 July.
Vincent was buried at Auvers on 30 July 1890. His legacy was a large body of art works: over 850 paintings and almost 1,300 works on paper.
Still Lifes
I'd be remiss if I didn't also share a couple of Van Gogh's amazing still lifes.  During his stay at the mental hospital, Saint-Rémy, he was unable to go outside for a time. It was during this period that he painted his clogs and these Irises. I think they are beautiful examples of the style he spent the last decade of his life developing. The colors, textures, and brush strokes embody his now recognized iconic style.
Children's Exhibit
After exiting the obligatory gift shop after the paintings, the Houston Museum of Fine Arts set up an interactive children's room called Van Gogh for All. It was awesome! They recreated some of his paintings and made the windows and doors open, the trains make noises, and the stars move with a crank. The exhibitors also staged some of his paintings such as Café Terrace at Night, Bedroom in Arles, and Noon-Rest from Work allowing the participants to step right in. There was also a delightful blue screen video interactive of the Starry Night, several coloring opportunities, and some portraits with the head cut out for fun photo ops. It was the perfect way to end the experience.
The exhibit was everything I'd hoped for and more. It's in the top 5 art exhibits I've ever seen, in fact.  It runs runs through June 27, 2019. If you are in Houston, I highly recommend stopping in. Do you have any art museums in your area you recommend?