A couple of weeks ago, my husband took me on the coolest date night. He got us tickets to the Seattle Art Battle Tournament Finals. These tournaments happen in major cities all over the globe. Check the listings and go if you get the chance. You won't be sorry!
About Art Battle
Art Battle is a global live art tournament. Artists transform blank canvases to finished works as audiences watch the creations come to life in a timed event. The audience decides who wins each round. A final round pits the winners of all previous rounds against each other. In short: 12 artists, 3 rounds, 1 winner.
In 50 cities around the world, hundreds of event winners are chosen each year by local audiences, artist judges, and online audiences to advance into the next level. From local events through 4 levels of National and International competition, artists have their chance to win all the way to the World Championships. The next World Championship event is in Tokyo, in October 2020.
Seattle City Championship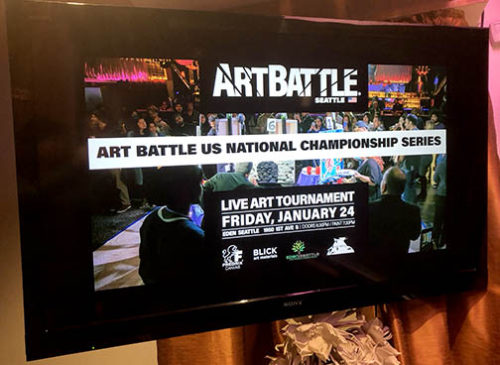 The Seattle 2019 Art Battle Tournament Final Tournament was on January 25, 2020. Eleven previous tournament winners returned to battle each other in hopes that they might advance to the national tournament in Texas.
The Scene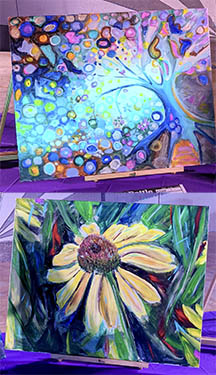 Having never attended anything like this, we were unsure of what to expect. We entered the nightclub Eden where DJ Nightwatch already had the atmosphere grooving. The people were eclectic, colorful, and interesting. Everyone seemed friendly and intrigued by what lay ahead. Two female artists stood in front of easels and had paintings already underway: a whimsical tree and a large black-eye susan flower. We moved to the bar to grab drinks and soak in the atmosphere still unsure of how all of this would work.
Twenty or so minutes later, an emcee opened the official event. The crowd cheered for the two pre-show artists, Mo Wilhelm and Gretchen Proulx, and watched as their paintings were propped up on a stage. Their paintings would be auctioned off along with all of the art produced throughout the evening.
The Rules
The emcee, Austin, explained that the first group of artists would soon be called to their easels. They had 20 minutes to complete their paintings. The crowd should slowly circle around them "like a tornado" and watch their progress. At the end of the 20 minutes, the battle organizers would send a unique link to each audience member's phone to vote for their favorite. The top two would paint again in round 3. The overall winner of round 3 would be crowned championship and move on to the nationals.
Round 1
Austin pumped up the crowd as he introduced each artist and they bounded up to their easels. The crowd counted down from ten and DJ Nightwatch turned up the tunes as the artists wielded their palettes and began to paint. Some of the artists swayed to the music as they painted; others seemed to block out the atmosphere all together and focus wholly on their art.
First Half
When the crowd began spiraling around the artists, we were nearest easel 1. On easel 1, Veronica Lynn Harper began to sketch out a fashion portrait using warm colors.  As we spiraled around, we saw Christoph Sagemuller sketch in a face and begin quickly shading it as he looked at a reference photo on easel 2. On easel 3, Cat Paitsel quickly swiped in an ocean and colorful sky with a paint rag. Meanwhile on easel 4, Megan McDermont started a colorful, ghoulish front facing portrait.  Jocelyn Skillman splattered and brushed on a jagged, tree-like abstract on easel 5. Bernadette Enriquez quickly formed a colorful, drippy, splattered tiger on easel 6. It took 10 minutes to make our way around all 6 artists.
Second Half
At the halfway point, back at easel 1, Veronica's fashion girl pouted in the upper left corner adorned with fluorescent colors. Christoph's portrait was fully blocked in with shading, highlights, midtones, and the background complete. Cat had 2 Orca's emerging from the water almost holding fins. She splattered paint into the sky as we continued past her to see the progress on easel 4. Megan's ghoul now had one eye, one wing, and a vibrant red background. Jocelyn had added the word "Trump" in black jagged letters to her raw expressive background. She painted her hand red and stamped it in the middle of her canvas in the last seconds of the battle. Bernadette had added colorful spirals and drips to her tiger. Time was up.
Voting
Wow. Those twenty minutes flew by.  I can only imagine how fast it must have seemed to the competitors. Everyone's phones began to vibrate with the notification — voting was open. The phone app already had a photo of the finished paintings loaded. To vote, one simply presses the image they think is the best. The audience had 5-10 minutes to log their votes as the completed paintings were moved to the stage and fresh canvases set up on the easels.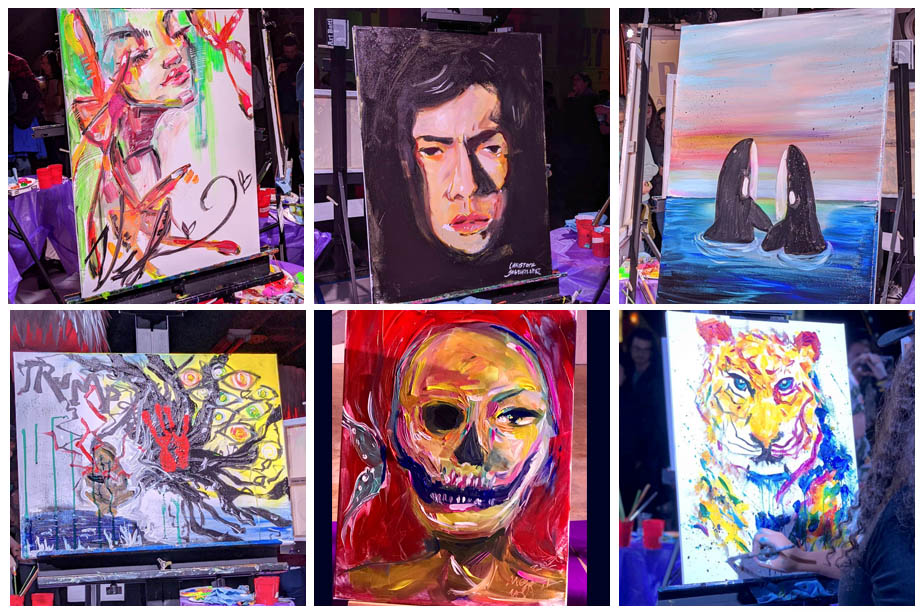 Justin and I voted, refreshed our drinks, and prepared for round 2.
Round 2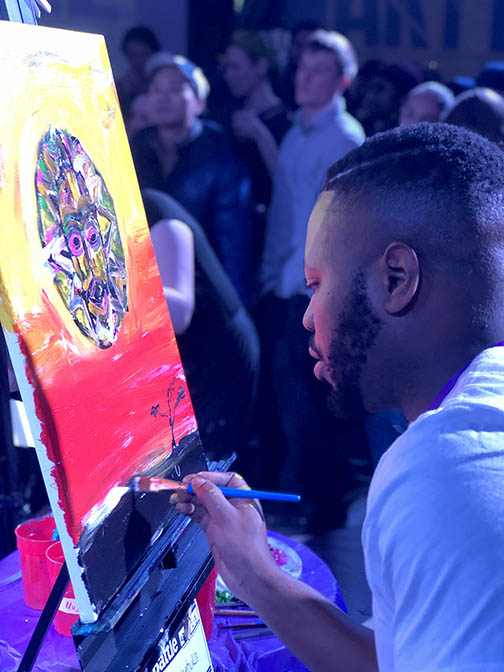 Before we knew it, round 2 began. On easel 1, Janae Valasco started with splotches of vibrant color which she later formed into a colorful river landscape. On easel 2, Susannah Youngquist painted pink and blue stripes across her canvas to begin her eventual galaxy sky silhouetted landscape. Mujale Chisebuka sketched a sun looking symbol to begin his background on easel 3. He later filled in the background with stripes of warm colors and grounded the composition with animal and tree silhouettes. He painted the sun face with secondary colors to finalize his heated painting. Heidi Leonard, the only artist with metallic paint on her palette, painted a llama on easel 4 with a couple of reference photos taped to her tray. Bobby Rice painted an intuitively layered, energetic abstract on easel 5 in blue and tan hues. He then topped it with red drips and black swoopy accents.
Lastly, on easel 6, was the wildcard contestant. The wildcard contestant is chosen lottery style from the audience. On this particular evening, Kristina S.'s name was pulled from the bucket and she was thrust onto the stage. She painted a portrait with relative ease and confidence despite being the only unprepared contestant. Can you imagine?
Voting Part Deux
Voting opened again at the end of the fast 20 minutes. Round 2 paintings were moved to the stage and 2 easels were removed from the center as the audience collectively looked at their phones choosing which painting they judged supreme.
Final Round
The top 2 contestants from round 1 and round 2 painted in a final heat to determine the Seattle winner. Christoph Sagemuller's portrait and Bernadette Enriquez's tiger won the crowd votes from round 1 while Janae Valasco and Susannah Youngquist advanced to the finals with their landscapes winning the most audience votes from round 2.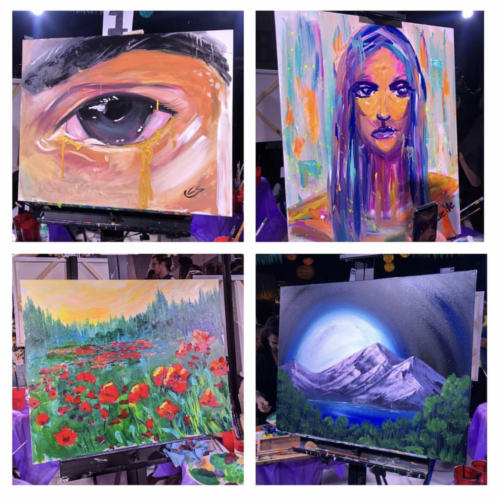 The final 20 minute round was a blur. Artists had larger 24×36 canvases to fill. All 4 artists were prepared with a second painting and shot into action when the crowd counted down. The music pumped and the crowd tornadoed slowly around watching the finalists in action.
Christoph painted a huge pink eye in the center of the canvas dripping yellowish mucus. As he did in the first round, he had a reference photo that he looked at throughout the 20 minutes. Bernadette strayed from her round 1 subject matter and created a colorful portrait in the finals. Janae painted another landscape, this time a field of red flowers receding in the forested distance. Susannah also painted another landscape— this time of snowy mountains, a lake, and trees all lit by a huge moon.
Final Voting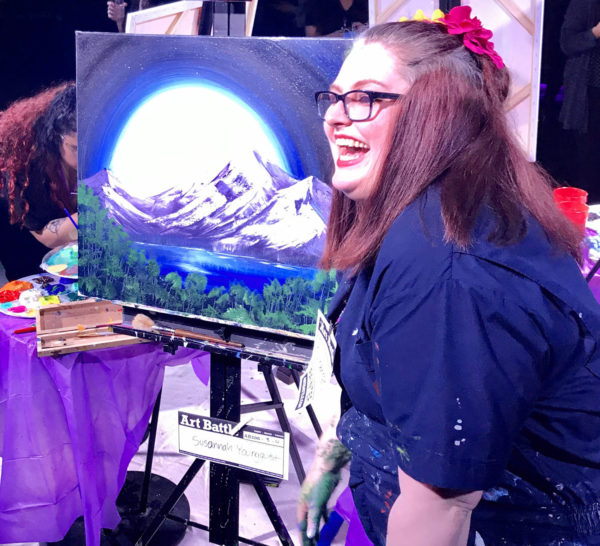 The paintings were incredible. If I hadn't watched with my own two eyes, I'd never believe they could be accomplished in 20 minutes.
Phones began to vibrate throughout the bar. The final voting of the evening opened.
Moments later, the Seattle Art Battle Champion was named: Susannah Youngquist. In April 2020, she will represent Seattle in the national competition held in Texas.
Impression
Art Battle Tournament is a super cool event. What's not to like? The atmosphere is incredibly friendly and supportive. It's interactive, interesting, and paced. Add music, food, and drink, and you have a winning concept. I definitely plan to attend again and who knows — maybe I'll even try to compete someday or get called up into the wildcard spot.
Art Battle Founders
Art Battle was created in 2001 in New York City when 6 artists partook in the first throw down in black and white in one 90 minute round. The environment for artists in NYC at that time was one of stiff competition, and many had ambitions of becoming the next art star. At the same time, the gatekeepers of the art world held big power in determining who would be that next star. Art Battle was a response to the tension of competition and the frustration of gatekeeping – a way for artists to come together, bringing the competition to the surface, and allowing the people to decide their own champions. Read the full story on the official Art Battle website.
Art Battle Tournament History
In 2009 the Art Battle Tournament was born with first events in Toronto, Canada. In a format still used today, each event featured 12 artists in a one-night tournament of three 20-minute rounds. With a series of events in each city throughout the season, local artistic communities in cities in the US, Canada, around the world gather around the talent of artists and foster a congregational experience. A single city season might see 100 artists as competitors, their fans, and patrons gathering on monthly basis to cheer as All Stars and New Stars stepped to the easel. By 2015, Art Battle celebrations were going strong in Canada, the US, the UK, Brazil, and China.
Art Battles Today
In 2020, more than 250 Art Battle events around the world will contribute to the World Championship event in Tokyo. Meanwhile, in cities across the globe the battles continue. See if you can find one near you and let me know what you think.  If you are interested in applying to compete, applications are available online. Would you compete in one given a chance?