DIY gorgeously vibrant glitter alcohol ink ornaments with just a few materials and these easy to follow step-by-step instructions.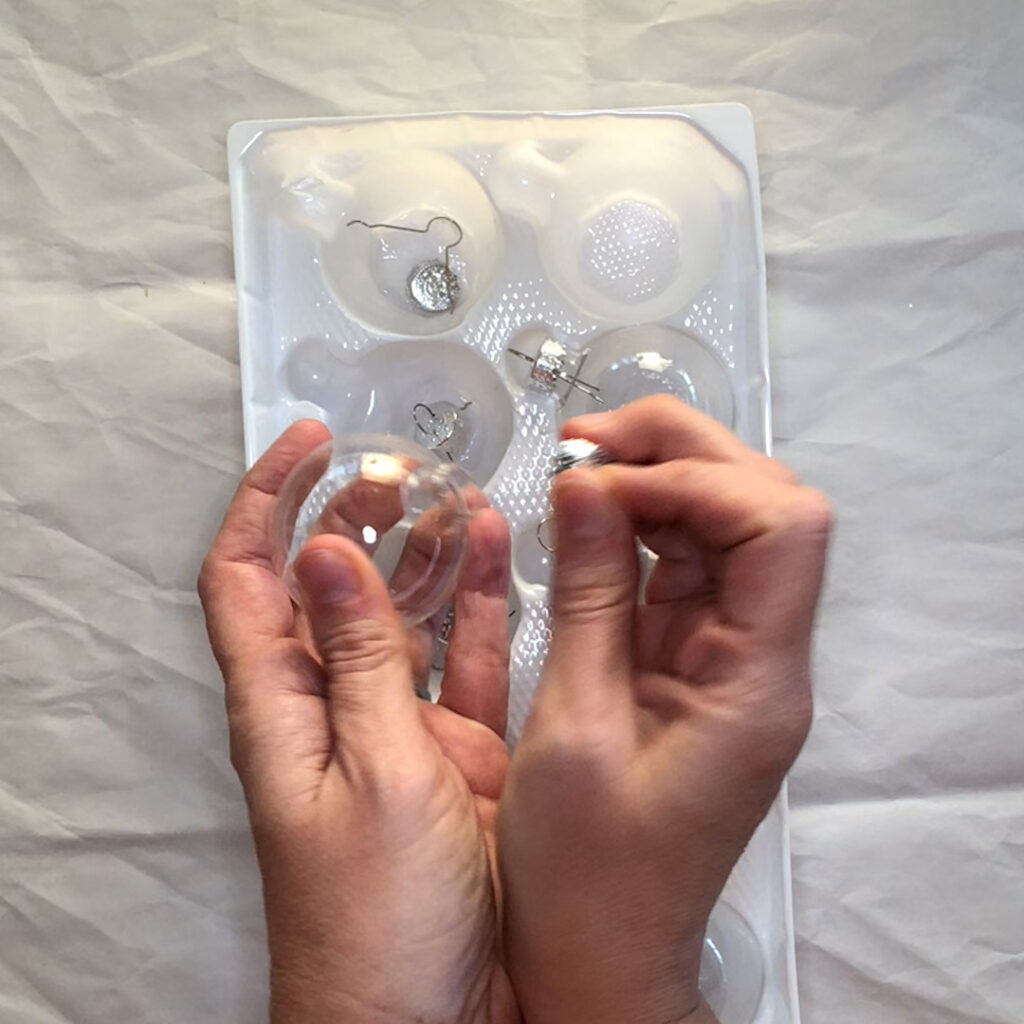 Step 1: Remove Ornament Caps
Carefully remove all of the ornament caps and set them aside. Placing them inside the original ornament packaging can help you ensure you save all the pieces.
Step 2: Coat the Ornaments
Pour some of the Minwax Polycrilyc Sealant into an ornament. I used a small medicine cup to make pouring it easier. You could also use a medicine dropper or a pipette. Fully coat the interior of the ornament with the sealant by carefully rotating it. It's sticky, so don't let it spill out. Pour any excess back into the can.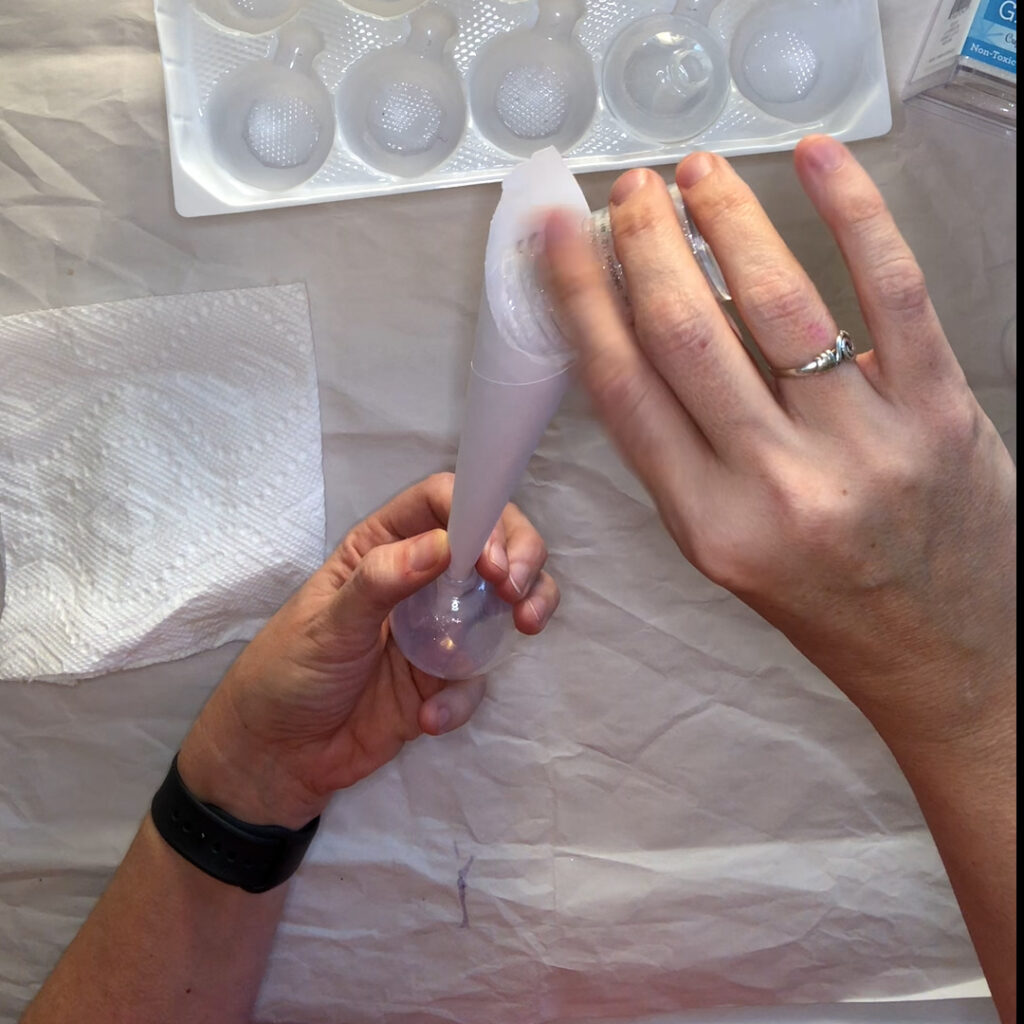 Step 3: Make a Funnel
Using any scratch paper you have, roll it up into a funnel shape making sure the funnel will fit into the opening of the ornaments. Add a piece of tape so it keeps its shape and you won't have to repeatedly roll it up.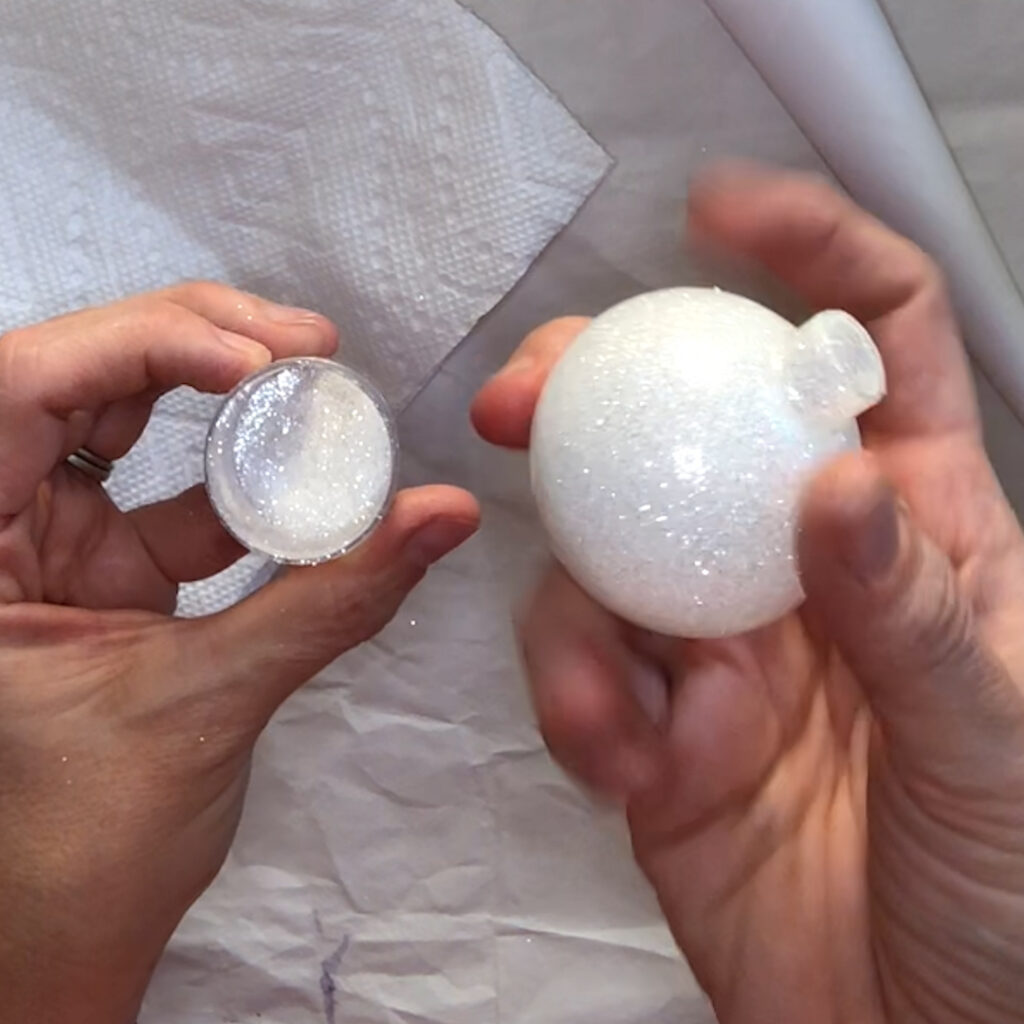 Using the homemade funnel, add white glitter into your ornament. Cover the opening with a paper towel and shake it to distribute the glitter. It will stick easily to the Polycrylic coating and fully coat the interior of the ornament creating a shimmery white base for the next steps. Shake any excess glitter out into a container or on a sheet of paper to reuse on the next ornament. Set it aside to dry.
Step 5: Apply Alcohol Inks
Alcohol Inks are an acid-free, highly-pigmented, and fast drying medium to be used on non-porous surfaces.  Mixing colors can create a vibrant marbled effects. This Tim Holtz set comes with three primary colors, an applicator tool, felt pads for application, ink blending medium, and more. You can also buy single colors at your local arts and crafts store. It's very easy to apply them. Simply add a few drops to the felt pads and pounce them on the glass until you are happy with the effect.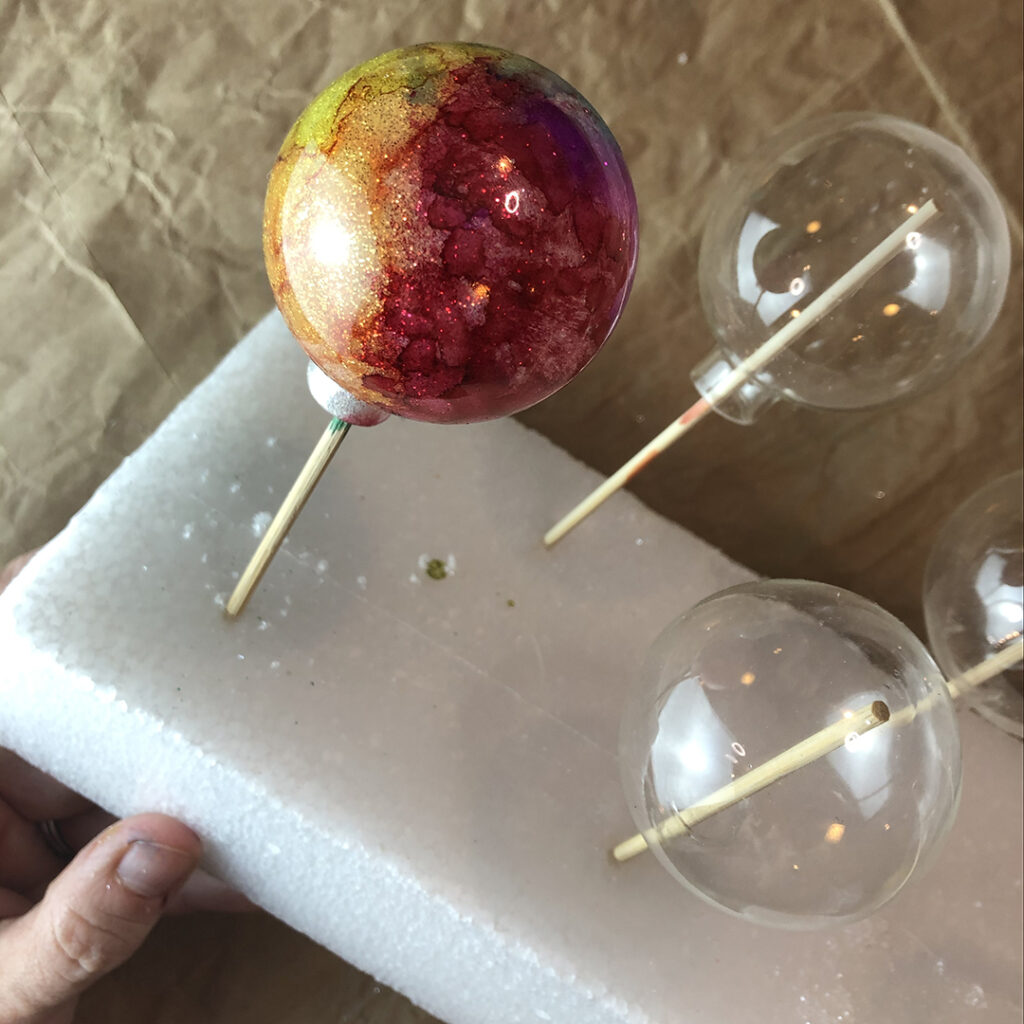 Step 6: Seal
When using alcohol ink on glass, make sure to use a clear sealer so the colors do not fade or wipe off. To seal the ornaments and have the maximum shiny effect, try a clear glossy sealant spray. To suspend the ornaments and make them easier to spray, take some wooden skewers or pencils and stab them into a box. Place the ornaments upside down on the skewers and spray them as directed on the can. When the sealant is dry, replace the ornament caps and hang them with a ribbon or twine.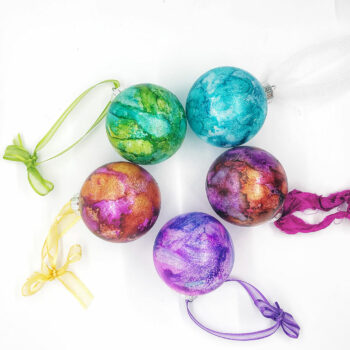 For a custom touch, you could add any vinyl shapes, names, or phrases. You could also heat emboss sentiments atop the sealed glitter alcohol ink ornaments.
The DIY glitter alcohol ink ornaments make lovely presents, but no one would blame you for keeping them for yourself. With just a small amount of effort and supplies, they will shine beautifully on any tree.
For more inspiration, tutorials, and ideas, check out these other DIY decor posts.