Recently, I learned about an ongoing art project to support the United States Postal Service (USPS). The USPS Art Project is an artist collaboration project created by Christina Massey with the intention for artists to collaborate and establish deeper connections with others while practicing social distancing. In doing so, artists also help the financially struggling USPS by sending and receiving packages.
Free and open to anyone who wants to participate, the project represents a fantastic creative exercise. As a bonus, it provides the potential for the completed art to hang in a gallery exhibit and/or expand the artist's audience.
Details
Types of Art
Hundreds of artists already joined in the project, creating pieces ranging from sculpture to painting, drawing, mixed media, fiber art, and more. Anything goes.
Partnering
Anyone can participate. Simply partner up with someone. Your partner can be a family member, friend, or complete stranger. If you don't have anyone in mind, visit the USPS Art Project Facebook group or Instagram Page to connect with someone.
Creating
Once you have a partner, exchange addresses, and then create or find unfinished art. Sign and photograph the art then mail it to each other via USPS. When you receive your partner's art, use it to create a finished piece of art in any way you choose. Massey recommends leaving both artist signatures on the final piece to cement the collaboration. Upon completion, it is yours to keep.
Sharing
Share your finished art on your social media accounts. Post images of the before and after and clearly tag both artists. It's nice to be able to see which artist did what part and how the piece changed from one artist to another. Tag @uspsartproject and use the hashtags #uspsartproject and #artistsfortheusps.
Recap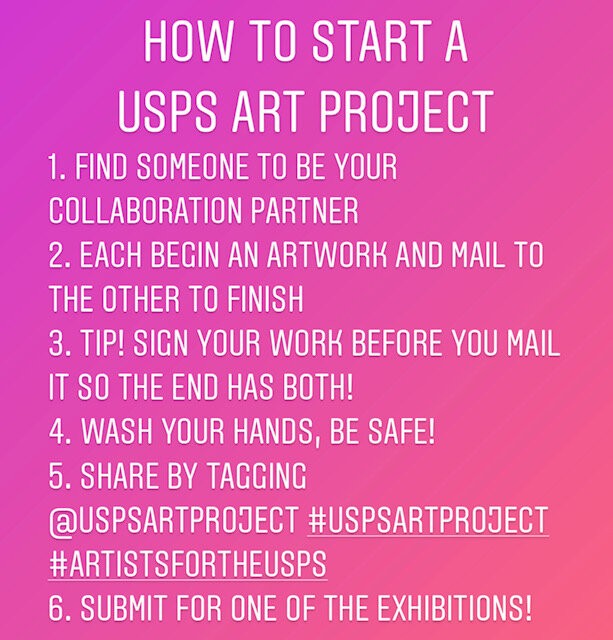 Audience Building & Art Exhibits
Select artworks are shared online on the @uspsartproject social media accounts (Instagram and Facebook). Additionally, artists now have the opportunity to submit their collaborations for several exhibition opportunities. A non-juried exhibition, artworks are accepted on a rolling submission basis until capacity is reached at each respective exhibition space. Artists who exceed a location's capacity have the option to enter into the following location.
One exhibit is currently on display virtually and in person in New York City's Pelham Art Center. At least 3 more exhibits are scheduled in the coming months.
More Information
Visit the official USPS Art Project webpage for all the updated information you need including how to get started, exhibition dates and details, how to donate to the project to support shipping costs, and more.
Also, there is also a Facebook Group called Artists for the USPS where you can share your collaborations, articles, tips and advice and find new collaboration partners.
What do you think? I love it and want to participate.
Other Collaborative Projects
For more collaborative art projects you can do with your family and friends, check out the art journal round robin series of posts.